Mailing Services
Our Mailing Services
Printing, mailing and warehousing in the same facility reduces time and costs, and increases efficiency. We are a certified full-service mailer with the expertise and experience to make your projects run seamlessly from concept, into the recipient's hands.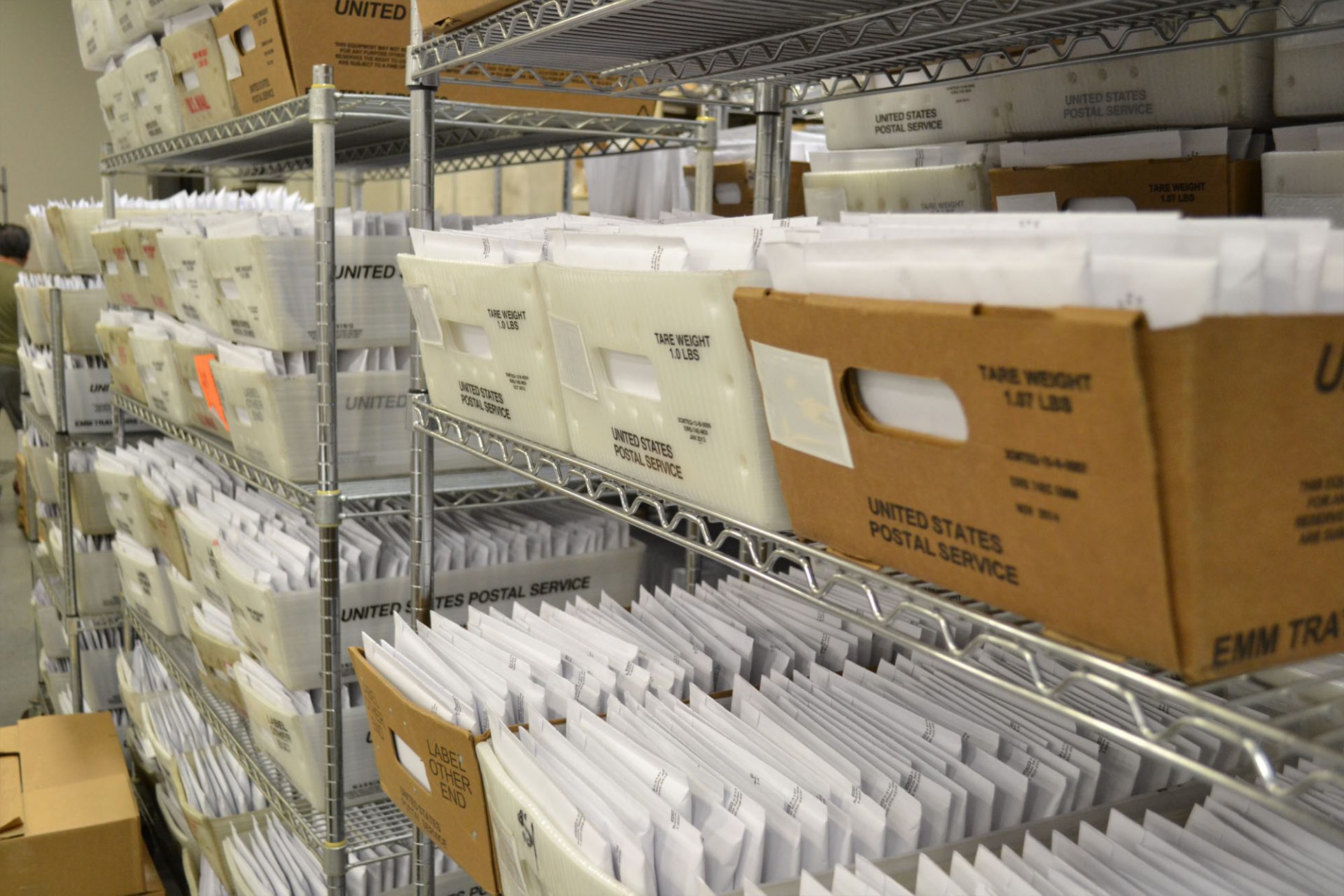 Interested in our Mailing Services?
Please provide as much information as possible before supplying addresses/mail files for deeper discounts.
PRINT, MAIL & DATA SERVICES
In addition to our full-service printing, mailing, fulfillment, signage and promotional products we are pleased to offer
Print-to-Mail
stream which allows your mailing projects to go from our presses straight to the USPS mail stream. Our Print-to-Mail stream service will get your mail out more quickly and will make managing your mailing a seamless operation. Our USPS logistics operation is fully electronic and integrated with PostalOne, ensuring accurate reporting and seamless entry to any USPS BMU in the network.
Mail Anywhere Certification qualifies us to mail your product with our permit through any postal facility in the country, saving time and money.
We are pleased to offer UPS Mail Innovations to provide more options to cut costs and transit time for domestic and international small mailed packages.
EVERY DOOR DIRECT MAIL
USPS® Every Door Direct Mail® (EDDM®) is an affordable targeted advertising technique that lets you map your marketing mail audience by age, income, or household size. You can use the EDDM mapping tool to choose the ZIP CodeTM and carrier route that will target your best possible customers—current and future. The EDDM mapping tool is easy to use and discounts are available even for small businesses. With EDDM you can target a particular area without the need for mailing lists or addresses.
Mail Anywhere
The Postal Service has launched the new "Mail Anywhere" service that allows customers to use the same permit at every mailing location. This new service is available to customers who have mailed at a Full-Service Intelligent Mail level of 90% at the business' location.
CLASSES OF MAIL SUPPORTED BY MAIL ANYWHERE INCLUDE: First-Class Letters, Postcards & Flats; Standard Letters & Flats; Bound Printed Matter Flats; Periodicals, Letters & Flats
QUALIFYING PERMIT TYPES INCLUDE: Permit Imprint, Precanceled Stamps, Metered Mail, OMAS (Future Enhancement), Periodicals
BENEFITS
Maintain a single permit and centralized account to enter and pay for all mailings across the country
Local Permit Number or Company Imprint Indicia may be used at any location
Save $$$ by eliminating multiple annual permit fees
Eliminates the need to verify mail with final destinations of SCF's (Sectional Center Facility)1 and NDC's (Network Distribution Center)2, saving trucking times and post office delays.
Mailers will have greater flexibility in managing their production since they can shift mail from one site to another without having to open another permit at a new site or change the imprint on the mail.
Mailers will be able to maintain one locally-held trust account or a single EPS (Enterprise Payment System) account for mailings nationwide.
Mailers will be able to manage one permit versus multiple permits.
Issuing Office Permit Number and City / State or Company Permit Imprint indicia may be printed in the indicia on the piece and entered at any location. (1) A presort level in which all pieces in the bundle or container are addressed for delivery within two or more three-digit ZIP Code prefixes served by the same sectional center facility (SCF). (2) A presort level in which all pieces in the bundle or container are addressed for delivery within the service area of the same network distribution center (NDC).
AUTOMATED MAIL PRODUCTION
We will help you develop, maintain and improve your ongoing mailing programs. Improve your workflow by streamlining your data management and optimizing your production and mailing.
Working with you to determine the attributes of the automated mailing program, and craft a custom solution to create and fulfill your program.
Our automated mail production will reduce the stress on you staff while improving profitability.
DATA PROCESSING
Data File / List Conversion
CASS & Presort
NCOA
Merge / Purge & Dedupe
Upper/Lower Casing
Mail Tracking/Mail.dat/Intelligent Mail Barcode and Pallet Barcoding
List Acquisition
DATA APPEND
Household Income
Political Affiliation
Children Present
Home Ownership
CASS
We use postal software to validate, correct, and standardize our customer's data. Our software uses an API that goes beyond CASS certification. The software is the leading postal and pre-sort provider for the past 40 years ensuring our customers the very best in industry standards and staying compliant with USPS regulations.
DELIVERY POINT VALIDATION (DPV)
We also provide the next level of address validation through Delivery Point Validation (DPV) offering. DPV is a USPS-based system that enables us to verify that an address actually exists. DPV validates the existence of both the primary and secondary address number, and can determine whether an address is a Commercial Mail Receiving Agent, housing private mail boxes at a distribution location.
NCOALINK
NCOALink is a product developed, maintained, and distributed by the USPS for the purpose of updating new addresses for consumers who have moved recently. Our postal software maintains a USPS License to provide Move Update services.
By updating just before mailing, you are assured you are mailing to the most up to date addresses and we provide you with reporting that allows you to update your database.
NCOALink can also be used to identify some pieces that should be suppressed for a cost savings. These include individuals who moved, but their forwarding information was not made available to the USPS. This means that when your project is actually mailed, you are not mailing to addresses that will not be delivered. NCOA or other authorized USPS approved move update service is required for automation mailings.
POSTAL PRESORT
Once the mail file has been cleansed it is ready for presorting, which is the backbone of our postal software used to maximize postal discounts on every class of US Mail, and the software is PAVE Gold-certified in every single category.
The software is comprehensive mail preparation software solution that is PAVE-certified by the USPS. It sorts mailing lists according to USPS standards for every class (First-Class, Periodicals, Standard and Package Services) and type of mail (letters, flats and parcels) at all allowable levels.
For Drop Ship mail (PVDS 8125), we employ the services of specialized contractors who ensure uniform mail entry into the postal stream, regardless of the addressed geographic location.
MERGE/PURGE
If requested our software also capable of providing Merge/Purge Service used to eliminate duplicate client data. Merge/Purge can be run on the basis of Individual, Household, Company, or Family Surname.
ADDRESSING / PERSONALIZATION
Variable Data Printing • Laser Printing • Inkjet Addressing
MAIL TRACKING
Postal software also provides mail tracking codes that are created when presort is processed. This helps you keep your mail campaigns under control. You will know when pieces are reaching homes so any follow-up e-mail or telemarketing can be planned. Or, just use the tracking as reassurance that your mailing is reaching the targeted audience as planned.
ON-DEMAND VARIABLE DATA PRINTING
Variable sheet fed digital printing. It allows us to produce highly customized communications.
We understand how to execute sophisticated programs that require intense control of variable elements. Our digital press fleet has a scalable RIP architecture, which ensures that the presses are never waiting, even for the most complex variable data projects. We routinely process VDP projects with tens of thousands of variables and also have the ability to support page exceptions so that you can incorporate multiple paper types or thicknesses in the same project.
LASER PERSONALIZATION
Our cut sheet laser printers allow for custom letters, statements and other products that require B&W variable copy.
INKJET
For direct address application onto a self-mailer, envelope or matching insert, we use inkjet technology to spray on an address. Our inkjet machines are also equipped with in-line tabbing to affix wafer seals or affix live stamps.
INSERTING AND MAILING
We offer full-service mail capabilities. We provide mailing services in conjunction with our Digital Print Services, Offset Print Services, or we can mail your existing mail pieces.
OUR LETTER SHOP SERVICES INCLUDE:
High Speed Inserting and Bindery Equipment for #10, 6×9 and 9×12 packages
Perfect Match Systems
Label and Stamp Affixing
Hand assembly for complex or non-machineable packages.
Folding & Fold / Slit / Nest
Inserting and Matched Mailing
Multi Station Inserting
Live Stamp and Metering
Wafer Sealing / Tabbing
Hand Work